Update (August 3, 2019): Supermodel Tyra Banks has invited the young aspiring model dubbed a "mini Rihanna" to audition in her new modeling project.
Banks spoke exclusively to Entertainment Tonight about her latest modeling venture, Modelland — which was inspired by her 2010 young adult novel of the same name. When 7-year-old Ala'a Skyy took social media by storm last week, the legendary actress, model and businesswoman just had to know more about the Rihanna doppelganger.
"I lost my mind," Banks told ET. "Rihanna looks like Tookie, the lead girl in the Modelland story. Rihanna, I know you not gonna play Tookie. She might, you never know. But for this, I don't think I'm necessarily going to get Rihanna for the movie. But I was like, we're also looking for little girl Tookie. So I was like, that little girl looks like little girl Tookie, because Tookie's also kind of inspired by me and my story."
The two finally met via a Facetime interaction last month. The 45-year-old offered Ala'a a chance to make her acting dreams become reality and play the character of Tookie.
According to ET, Modelland will be a combination of Harry Potter, Willy Wonka and a splash of Disneyland. Modelland is a "21,000-square-foot, ticketed attraction" that features a variety of interactive entertainment as well as other retail and user-generated content. The project is still in the production phase.
Banks said she is looking for 14 people from the age of 18 to 50 and performers aged 60 and over for the project. Modelland's opening date has yet to be announced, People Magazine reports.
Original: Rihanna has a full-fledged miniature doppelgänger, and the similarities were almost enough for us to pause on our album inquiries.
The little girl's mom, Bria, shared a picture of her daughter on June 16, and the resemblance is ridiculously uncanny.
It isn't just the angle, either. Baby girl still looks like Rihanna's mini-me in other pictures posted on her mother's page.
The picture eventually made it back to RiRi, who posted it on her own Instagram page.
"Almost drop my phone," the Fenty Beauty boss wrote. "How?"
Rihanna isn't the only one shocked by her mini-me.
Did you use an APP? bc this is freakin me out

— Free abortions & a welfare state 💓 (@BlackSapphic) July 23, 2019
Damn maybe they were right pic.twitter.com/ulX55wWU1A

— ™ (@HOBIlIlIll) July 23, 2019
Rihanna: "I wasn't hiding my kid from the world; I was hiding the world from my kid"

— BREZZIDENT 💎 (@OlaTheOG) July 23, 2019
so this aint you with the baby filter?

— xander (@whosalex) July 23, 2019
she even has the forehead

— ava ryanne🕸 (@avaryanne_) July 23, 2019
But you can't distract Twitter for too long.
Girl you gave birth to a whole ass child and you still didn't drop the album

— 🍒 New York 🍒 (@LettsMinaj) July 23, 2019
Bria hasn't responded to the famous shoutout, but her baby is definitely a beauty.
In other Rihanna related news, the "Work" singer announced Pharrell will headline the 2019 Diamond Ball, according to Billboard. Actor Seth Meyers will be the emcee. The Diamond Ball is an annual gala Rihanna hosts to benefit The Clara Lionel Foundation, her nonprofit.
Before you ask, no, we do not know when or if she will be releasing any new music.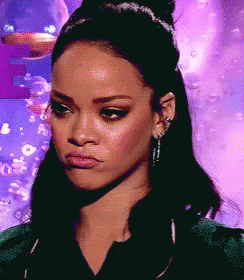 The 31-year-old mogul is working on expanding Fenty Beauty and her new luxury fashion line. The Bajan beauty is also making time for self-care.
"It's only the last couple years that I started to realize that you need to make time for yourself, because your mental health depends on it," she told Interview in June. "If you're not happy, you're not going to be happy even doing things that you love doing. It'd feel like a chore. I never want work to feel like a chore. My career is my purpose, and it should never feel like anything other than a happy place. I've made little things a big deal, like going for a walk or going to the grocery store. I got into a new relationship, and it matters to me."
There are days when Rihanna has to sleep in spurts to get everything done, and her businesses are the reason her album has been delayed.
"It's the reason why an album isn't being spat out like it used to," she admitted. "I used to be in the studio, only the studio, for three months straight, and an album would come out. Now, it's like a carousel. I do fashion one day, lingerie the next, beauty the next, then music the next. It's like having a bunch of kids and you need to take care of them all."