Men are getting in formation, pushing their razors and clippers to the back of their bathroom sink to be solidarity with the movement widely known as No-Shave November.
(razor drop) pic.twitter.com/ddlS7pgjJR

— No-Shave November (@No_Shave) November 1, 2016
Outside of it being a chance for us to thirst over luscious-bearded baes on a daily, #NoShaveNovember is actually rooted in an amazing cause. It started as a cancer awareness campaign and has been backed by organizations like St. Jude Children's Hospital and the American Cancer Society. As seen on the No-Shave November website, the biggest goal for the month every year is "to grow awareness by embracing our hair, which cancer patients lose, and letting it grow wild and free." Simply by letting Father Nature work his magic on facial hair, the charitable movement, made official in 2009, has helped to raise thousands of dollars since its inception and thrusted a hashtag into something major.
Photo: Giphy
Most of the population is embracing this month with open arms.
Fellas, I hope your beards flourish cause I'm here for it all November! #NoShaveNovember pic.twitter.com/WjVMKj4PJz

— ducked off. (@the_ericanicole) November 1, 2016
#noshavenovember is one of the most wonderful times of the year — niki (@missjournalism) November 1, 2016
#NoShaveNovember let the beards flourish. pic.twitter.com/EbEeJu6dS3

— spanish for auntie🌚 (@p_y_tia) November 1, 2016
Others, however, aren't as excited.
Gonna be salty all month long since its #NoShaveNovember and I've been #NoShaveMyWholeLife w/ #NoResults. pic.twitter.com/0jEQpABX94 — 🍁 (@arealarsonist) November 1, 2016
When you unfortunately don't have a beard and probably never will so #NoShaveNovember is basically irrelevant for you

— #CharltonFromUNT™ (@CanyouPLEASESMD) November 1, 2016
But who wouldn't love the opportunity to truly put self-care and manscaping first?
What about the warm, fuzzy feeling one could get by donating to a cause that is raising money and awareness for life-altering illnesses such as prostate or colon cancer?
Who'd hate on a chance to marvel at this?
Or this?
...or this?
No matter where you stand on #NoShaveNovember, we're ABSOLUTELY here for this.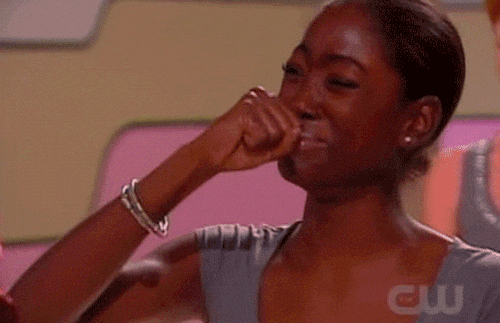 Photo: Giphy
---