I've you're like most of us you've seen a lot on your timeline about singer Jazmine Sullivan. However, she's not making headlines for the notes she's hitting.
She gave a strange eulogy on Facebook about late gospel singer, Thomas "TC" Clay. However the post was very odd, as she talked about how she didn't know him that well, but talked in depth about how he kept trying to get her attention...and she kept curving him.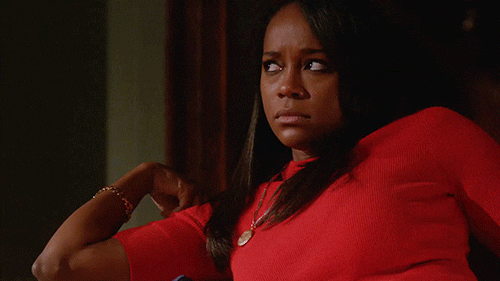 Photo: Giphy
Calling this post bizarre would be an understatement.
Photo: Facebook
To top it all off, she added a picture of she used a picture of herself in the post.
Photo: Facebook
Twitter was outright confused.
Me: There's no way you could friendzone a dead man, right?

Jazmine Sullivan: pic.twitter.com/NM7Dgoq58r — Chak G (@ChakaFlocka) October 19, 2016
Me reading Jazmine Sullivan's literally heaven-sent curve pic.twitter.com/KyPotJc4yq — KhaLITsi (@ItzBreeZyBaby) October 19, 2016
If Jazmine Sullivan sullied my name when I died... pic.twitter.com/srWzsEQTaa

— Erick Fernandez (@ErickFernandez) October 19, 2016
Is curving the dearly departed is a thing now?
"R.I.P. TC. He used to send me Goodnight texts even tho I never replied. Now I can finally rest in peace too." - Jazmine Sullivan — NUFF$AID (@nuffsaidNY) October 19, 2016
"It's unfortunate that you died, but what's even more unfortunate was the fact that I wasn't finished curving you" - Jazmine Sullivan

— Arron Fornasetti (@arronfornasetti) October 19, 2016
"I'm sorry you died but here's a pic of me to help you make it over to glory. I still don't want you tho ❤️😘🙏🏾😞" -Jazmine Sullivan — lil waves (@HoeStopTwatchin) October 19, 2016
Some people think a big deal is being made out of nothing.
Do I think Jazmine Sullivan's post contained some tasteless parts? Yes. Do I think it's as big of a deal as y'all are making? No. pic.twitter.com/PNVBvAmVoI

— Señor Devlin (@DevlinHuxtable) October 19, 2016
This Jazmine Sullivan incident is not that deep — Wisdom & Guidance (@Mazi_Nedu) October 19, 2016
I don't see anything wrong with what Jazmine Sullivan said. I think it was sincere and people dragged it to hell. Like they do everything.

— Ranch,cuziBdressin (@deeprettypretty) October 19, 2016
But for real, it is distracting us from the REAL issues!!
Don't let Jazmine Sullivan distract y'all from the fact that kids are doing the "JuJu on the beat" to Knuck If You Buck. This is America. — Unfuckwithable.✨ (@MiamiMadeHER) October 19, 2016
Sullivan has since deleted the post. What do you think of this? Was Jazmine in the wrong?
---