We all know that at the very root of hip-hop culture, there's the passion for the craft, and hunger in the artist, that draws fans in. However, every now and then, drama ensues and rap beefs take form, causing major stirs in the media and often times resulting in the grittiest, grimiest bars and quips rappers can bring to the mic.
Unfortunately, sometimes situations tend to get out of hand. We've seen the very worst of rap beefs spiral into dark situations. While hip-hop feuds make for great musical entertainment, it's when things take a violent turn that sparks concern.
Rapper Lil B recently got into an alleged altercation with A Boogie Wit Da Hoodie, which resulted in his set at the Rolling Loud Bay Area festival Saturday night (October 21) being cancelled. Other rappers, such as Travis Scott and ScHoolboy Q, have spoken out in support of Lil B, in addition to the many fans who expressed their feelings on the matter via social media.
damn lil b got jumped by a boogie backstage at rolling loud. heres the video

b said he's goin to the hospital pic.twitter.com/0COWwrM5LK

— nobodys 🌑 (@NobodysVideo) October 22, 2017

His response to the ordeal is what reaffirms why The BasedGod is quite the role model and needs to be protected. Positivity of this magnitude, in the face adversity, takes a huge amount of courage and strength not often shown amongst men in music.
Here are seven reasons why we should be protecting Lil B.
1. His influence on the archetype of "new age" hip-hop is undeniable.
Having created a based formula all his own, that many of today's hip-hop in-crowd noticeably takes from (i.e., combatting hyper-masculinity via fashion, rhyme-less rhythm and excessive use of the word "swag"), Lil B is not just a self-proclaimed pioneer. Other popular artists have attested to this fact in one way or another as well.
Thank you BasedGod. Teaching us all how to swagg in videos. You and Wayne most influential. Thank you BasedGod.

— Kendrick Lamar (@kendricklamar) June 20, 2015

@LILBTHEBASEDGOD I got a song that's gonna be huge and if it wasn't for Lil B It Wouldn't exist TYBG++++🎸🎸®

— Uzi London 🌎☄️💕® (@LILUZIVERT) August 29, 2015

Lil B is responsible for a lot of careers man. A true hip hop pioneer.

— Metro Boomin (@MetroBoomin) November 20, 2013

...and countless others.
(Side note: Imagine having Diddy as your hype man.)
2. His God like persona sometimes precedes him.
Imaginary (or not) as it may be, some things are just too eerily coincidental when it comes to Lil B. He fuels this narrative by taking complete ownership after seeing results from certain proclamations. If you aren't convinced, I have one name for you: Kevin Durant. Do your Googles.

3. His discography is extensive. Very extensive.
Receiving credit for the revival of mixtape culture, The BasedGod himself has a discography that consists of ten studio albums, one LP and 49 mixtapes, according to Wikipedia. Some inidividual works have even exceeded a 500ct tracklist. Lil B releases music by the truckload. This particular gem is probably amongst his top 5 greatest hits.
4. He is a published author and motivational speaker.
Takin Over by Imposing the Positive! is, for all intents and purposes, a self-help book. In it, Lil B (né: Brandon McCartney) offers, among many other things, insight into "The Based Lifestyle". A swelling sea of five-star reviews from dedicated fans flood webpages, with comments like, "this book is kinda like the bible except better and probably more important," "This rare, history making book, saved my life. Thank you based god" and "A beautifully rare and positive story. He reminds me of a young Don Delillo. Thank you based god."
Lil B has also given lectures at higher education institutions like UCLA and MIT. Swag.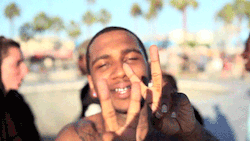 5. His very presence is a paradox.
In the best way possible, Lil B has established himself as an artist that takes himself seriously without taking himself too seriously. His music isn't at the caliber of a Jay-Z or a Nas, but he doesn't claim to be anything of the sort. BasedGod's messages about positivity and life are embodied in his own image and persona: playful, innovative, daring and carefree. It's a convoluted concoction of elements arguably no one but him can comprehend. Be that as it may, his fanbase and ability to garner attention both speak for themselves.
6. His love for his idol, Lil Wayne, is truly endearing to witness.
Lil B takes credit for influencing many of today's hitmakers and shifting a (sub)culture of artistry in hip-hop. Still, he will never pass up the opportunity to pay homage to the one who inspired him to be who he is today: Weezy F. Baby.
In a 2016 interview, he had this to say:
"Lil Wayne is the best rapper ever to live. Better than Tupac. Better than Biggie. He's the best rapper to ever come on earth. All around. Wayne is better, lyrically, than Eminem. He's better, lyrically, than Jay-Z. At the end of the day, Lil Wayne is the best, most electrifying artist maybe ever."
So you already know this was probably a monumental moment in Lil B's career/life.
7. He is an ally to the LGBTQ community.
In an industry that otherwise frowns upon homosexuality and leaves very little room for LGBTQ artists to carve a lane and prosper, Lil B blazed his own trail--as a straight man--and released an album titled, "I'm Gay". The rapper went on to clear up that the album title wasn't a way of him coming out, but a declaration of his solidarity with his queer fans. Above all, it's an affirmation of his own self-confidence and satisfaction.
He once told MTV, "I'm very gay, but I love women. I'm not attracted to men in any way. I've never been attracted to a man in my life. But yes I am gay, I'm so happy. I'm a gay, heterosexual male. I got major love for the gay and lesbian community, and I just want to push less separation and that's why I'm doing it."
This is why we should #ProtectLilB at all costs!